Product Details and Sizing
Prevent hip, knee and back pain!
Are you walking in a fracture boot, also known as an orthopedic walking boot, or are you wearing a post-op shoe, a CROW boot or a wound-healing shoe? Even small differences in leg length can affect your walking and may cause pain or discomfort in your hip, back and knee.
The EVENup™ was developed by foot and ankle specialists that saw the need for a simple, effective way to help patients suffering from hip and back pain while recovering from an injury or surgery in an orthopedic boot or wound healing shoe.
EVENup™ Shoe Balancer Features:
Equalizes your leg length to prevent, hip, knee and back pain
Reduces body strain by promoting walking in a normal fashion
Adjustable 2-layer sole that can add 1/2" or 4/5" to your sneaker height instantly
Lightweight rubber, no-skid bottom
Easy to strap on and fits most adult size flat-footed shoes (athletic, diabetic shoes, etc.)
A customer and patient favorite!
Comes in 5 sizes (adults only). Each EVENup™ has two height adjustments. Easy to put on and take off. Please note that EVENup™ is designed for temporary use. The life span of this product is approximately 2-3 months dependent on daily use.
HOW TO USE EVENUP
Step 1: Cross your leg over the opposite knee. Pull the EVENup™ over the toe of the shoe.
Step 2: Pull up the back of the EVENup™ straps over the heel and adjust the side straps around the sole.
Step 3: Make sure the EVENup™ name faces out at the heel. Adjust the sole of the EVENup™ to center on the bottom of the sole.
Step 4: Pull the Velcro strap across the top of the foot and fasten to secure the EVENup™.
ADJUSTING THE HEIGHT
Top of EVENup™ device & bottom of layer
Pegs in the top layer of the EVENup™ sole fit into the holes in the bottom layer. The single layer bottom is 1.3 cm thick. By adding the top sole the EVENup™ adds 2.1 cm in height.
EVENup™ with single layer
EVENup™ with double layer
SIZING INFORMATION
The EVENup™ does not correspond to shoe size. Instead the measurement of the sole of the shoe is used to determine the appropriate size of EVENup™. See image below for the proper measurement technique.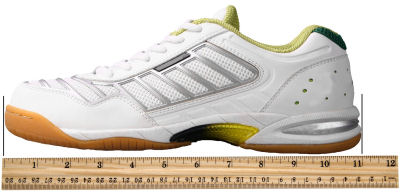 Use the measurement technique below to determine your appropriate size even if you have ordered in the past. To be used with flat-bottomed or low-heeled loafer shoes only. EVENUp™ is not designed to work with heels, sandals, or mules (no- or low-back shoes).
A sole measurement between 10 inches (254 mm) and 11 ¼ inches (286 mm) use a SMALL
A sole measurement between 11 ½ inches (292 mm) and 12 ¾ inches (324 mm) use a MEDIUM
A sole measurement between 13 inches (330 mm) and 14 ½ inches (368 mm) use a LARGE
A sole measurement 15 inches (381 mm) or greater use an EXTRA LARGE
Note: It is generally best to choose an EVENup™ a little too small rather than a little too big.
Any questions? Please contact us directly at 1(800)CASTCOVER (1-800-227-8268) or email us at cs@castcoverz.com.