"Aha!" moments can come in a string of seemingly isolated events. One image can crystallize your vision and change your life, forever. In the fall of 2008, my then 10-year old daughter broke her humerus, the large bone in the upper arm. My heart just sank for her as she was burdened with her 6th broken bone. Yes, her 6th. Because my cooking is not a comfort, I dusted off my trusty 30 year old sewing machine. I made her a few cover and sling sets and voila, our accidental creation, CastCoverz!, was born. Our mission is simple: provide fun and functional products that comfort orthopedic patients.
However, we have had our own fractures! In our first year, my business partner and I went our separate ways, our first mass-production order was flawed and couldn't be sold, and I was diagnosed with a very rare form of breast cancer. Understandably, a lot of people would have thrown in the towel. But, I had a vision and I'm persistent. CastCoverz! now has 24 branded products (proudly made in the USA), distribute 4 additional products, and we bought out our designer colored crutch and crutch cover supplier. We have world-wide distribution and are in notable orthopedic clinics across the country. Elli, bless her heart, suffered six more broken bones. That's 12 total, that we know of. Unfortunately, the last two were in a horrific car accident that changed our lives. You can read about that life-changing event here. Her older brother, thank God, owns the break-free title.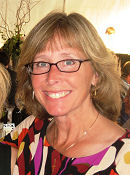 The best part of our business is our customers. Without them and their stories, we wouldn't exist. In fact, we have 51,000+ reviews in 3.5 years! 97% are 4 and 5 stars! WOWIE! You can read them on our different product pages or on our Testimonials and our Custom Covers pages. If you like those pages, you might also enjoy our Pinterest, Instagram, YouTube, Facebook, and Press page, too.
Wear your personality or cover up. Stay clean, dry, snag-free and comfortable with CastCoverz!-branded and companion products. Adults, children, male and female we've got you covered from limb-to-limb. Fun, fashion, and function in the orthopedic world. It's a challenge, but we're up to it. Because we know if you feel better, you heal better!
Feel Better, Heal Better.
Annette d. Giacomazzi
Founder and Owner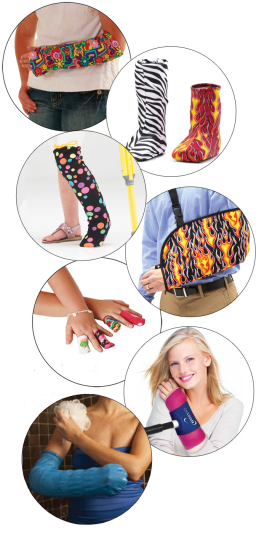 Wearing a cast? Splint? Boot? CastCoverz! puts the fun into functional!
We Know Your Pain...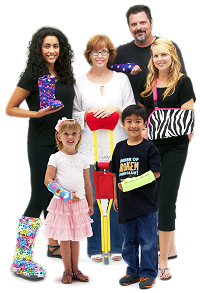 ...your frustration, and your inconvenience. We also know how to add some fun and solve some of your biggest challenges while casted, booted, splinted, braced or bandaged.
If you're a mom with an injured child and need to put a smile back on their face while keeping their cast clean, save your furniture from scratching or your wardrobe from snagging, or you are an adult looking for fashion or a discreet way to cover your cast, brace, splint or boot, we've got you covered with CastCoverz! branded products. If you need to keep your cast dry we have two solutions for you: AquaShield for showering, bathing and water-sports! If you want a pair of designer crutches, a bag to hold your incidentals, and beautiful pad covers that are oh-so comfortable, we have options with Designer Color Crutches and Accessories. If you want to get rid of the smell and itch of wearing a cast (let's be honest, wearing a cast is like having a bacteria-loving Petri dish attached to you), you need the CastCooler. If you want to tell the world you're a member of a very large club, the Broken Bones Club, order a Broken Bones Club t-shirt or mug to let everyone know.
What are we missing? What are we doing right? Let us know at cs@castcoverz.com.