CastCoverz! is the #1 trusted brand and leading global manufacturer, e-tailer, and innovator of Made-in-the-USA essential orthopedic soft goods (brace, splint, boot, and cast covers), orthopedic accessories (CrutchWear®, EvenUp, waterproof products), and patient-requested orthopedic gear for arms and legs.
Cast covers stop the snagging and the scratches and give casts, braces, splints, crutches, and walking boots fashion, function, and FUN! Orthopedic gear includes waterproof cast covers for showering and swimming (AquaShield USA), (DRYPRO), and CrutchWear™ crutch accessories, and so much more! We are here to help you heal better and feel better!
Covers for Arms | Covers for Legs and Boots | Mobility Accessories | Waterproof and Comfort Products
Our Story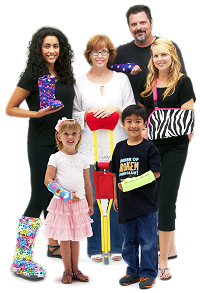 CastCoverz! began on a whim in 2008. Annette de Lancey's then 10-year old daughter had broken her humerus; her SIXTH broken bone to date.
Cooking wasn't comfort enough to help her daughter feel better so she dusted off her trusty 30-year-old sewing machine. She made her a few covers and sling sets and voila, CastCoverz! was born.
Our mission is simple: provide fun and functional products that comfort orthopedic patients.
Today, CastCoverz! has worldwide distribution, can be found on multiple channels (including Amazon and Walmart), and are in notable orthopedic clinics across the country. The best part of our business is our customers. Without them and their stories, we wouldn't exist.
In fact, we have 51,000+ reviews over multiple platforms; 94% are 4 and 5 stars!
Feel Better, Heal Better.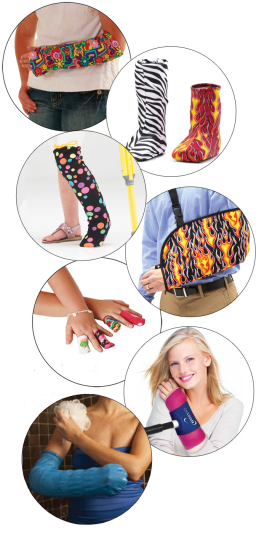 Wearing a cast? Splint? Boot? CastCoverz! puts the fun into functional!
Annette de Lancey
Founder and Owner
---
The CastCoverz! Difference
We are here to help you select the best cover and comfort products for you or your loved one's injury, condition, or surgery, offering our "We're here to help!" exceptional customer service guarantee so you are completely satisfied.