Product Details and Sizing
Fashion standard crutch covers and bags
Buy the combo set and save!
No one wants to be on crutches. They hurt your hands, your arms, and they certainly hurt your sense of style. We all know the frustration of how even the simplest of tasks becomes unmanageable while on crutches. Using crutches can now be comfortable, convenient, and fashionable with CastCoverz! CrutchWear®.
Designer padded covers for standard crutches
Comfortably padded (our customer's feedback created the right combination of comfortable padding)
Optional convenient hands-free bag for keys, cell phone, wallet, water bottle, and all of your essential items NOW WITH Anchoring Loops to prevent items from spilling out or unequal weight distribution!
Made with slip-resistant washable cotton, super soft fleece, minky or faux fur fabrics
Superior construction for the ultimate in style and durability
Easy to put on; no assembly required
Available in over 30 designer fabrics
Proudly Made-in-the-USA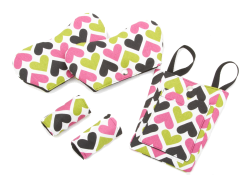 5-piece Combo set (crutch covers and bag)
in Hearts To You.
Standard Crutch Covers Set ($39.99) (4-piece set): Includes 2 underarm covers and 2 grip covers. One size fits all crutches for people 4'6" and above.
Standard Crutch Bag ($29.99): The perfect accessory for crutches. Crutch Bag measurements: 7 3/4" tall, 7 1/2" wide (top) 6" wide (bottom), and 7" diameter (opened wide.) NOW WITH Anchoring Loops to prevent flopping!
Standard Crutch Combo Set ($63.00) (5-piece set): Order the entire set (5 pieces: 2 underarm covers, 2 grip covers, and 1 bag) and save on comfort and convenience.
Need vibrant, stylish crutches to perfectly complement our crutch covers? Visit our Designer Color Crutch page to complete your look!
%%Panel.Product_ColorDisclaimer%%
%%Panel.CCZMadeInTheUSA%%