Posted by Kristine Champion on 18th Sep 2014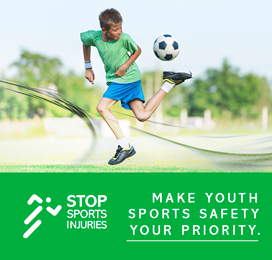 Two risk factors are associated with the escalation of injuries in youth sports, since 2000. These two factors are specialization and professionalization. What exactly does this mean?
Specialization: Specializing in one sport at a young age and playing it year-round
Professionalization: Taking young kids with growing bones and training them excessively like professional athletes
What do orthopedic surgeons need to know about the specialization and professionalization of today's young athletes? Orthopedic surgeon, James R. Andrews, MD suggests kids take 3-4 months off (or at least 2) from their sport, so their body can rest, adjust, mature, and get past any overuse type of situations. As in professional sports, the fatigue factor kicks in, which greatly increases the risk of injury.
What role can the orthopedic surgeon take to help young athletes? Andrews helped develop, through the American Orthopaedic Society of Sports Medicine (AOSSM,) the STOP Sports Injuries (Sports Trauma and Overuse Prevention) program in 2007, to focus on the importance of sports safety, specifically relating to overuse and trauma injuries. Orthopedic surgeons can get involved at the grassroot and local level by giving conferences about the prevention of injuries with local sports teams and by becoming a collaborative partner with the STOP program. The STOP Sports Injuries website gives tips and guidelines for keeping kids in the game for life.
For more information and to watch Dr. Andrews speak about this topic, click HERE.