Posted by Kristine Champion on 30th Jun 2014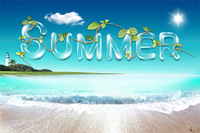 It's summer and you're unfortunately in a cast or having to wear an orthopedic walking boot. Just how will you keep the sand out of your cast or boot, you may ask? CastCoverz! shares some helpful tips on their Blog, titled:
How to Keep Sand Out of Your Cast and Walking Boot
CastCoverz! offers FUNctional and fashionable products that comfort orthopedic patients. From cast, brace, & splint covers to walking boot covers, crutch covers, arm slings, waterproof products, and much more, CastCoverz! has you covered no matter what the orthopedic event.