Posted by Kristine Champion on 21st Jul 2014
Today, Dana Vento of Pittsburgh Frugal Mom and Dana Vento - Lavishly Living Life Out Loud, re-visited her blog post, CastCoverz! & A Smile, about her beautiful daughter, Kallie, and her experience with a knee injury that unfortunately turned into so much more, including knee braces, crutches, walking boots, and more.
Dana loves all things luxurious and living life out loud! In her blog, CastCoverz! & A Smile, Dana talks about how her daughter learned to live lavishly out loud with trending colorful crutches and other CastCoverz! fun and functional products that comfort orthopedic patients. When she first found out her daughter was going to be on crutches for 14 weeks, Dana was happy to find CastCoverz! and be able to add a little color into her life, along with a big smile.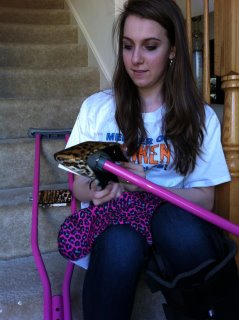 Dana says, "CastCoverz! has everything you need if you have a cast, crutches, or just about anything else orthopedic and in-between." While Kallie has been recuperating, CastCoverz! has continued to thrive and be innovative with new products, such as their re-designed Bootz! walking boot covers from photos shown in Dana's blog. CastCoverz! will make your life easier, and your loved one's, while dealing with an orthopedic event.