Posted by Kristine Champion on 7th Apr 2014
If you watch the Today Show, you've noticed that Al Roker has been wearing a boring black arm sling after having rotator cuff surgery. He called out for "something to color and cover up" his sling. CastCoverz! to the rescue!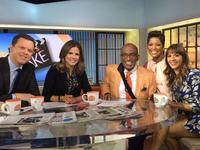 One "Up in Flames" Slingz! is on it's way to Al! We're hoping it helps him Feel Better, so he Heals Better!