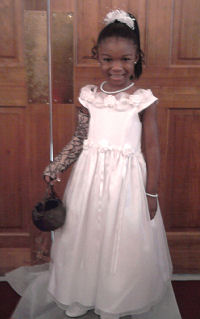 Kerrington
Kerrington is a beautiful flower girl.
Her custom Armz! was created with brown
lace and hand-sewn persimmon beads to match
the colors of the wedding while covering
her hot pink cast. Thank you Mom Larissa
for sending us the photo!
Custom cast covers for special events or sizing outside of our standard sizes. Go discreet or bold!
Wearing a brace, boot or cast doesn't have to ruin your plans for a big event. We'll help you match your evening gown, dance costume, cheerleading uniform, tuxedo, hunting outfit or even your wedding dress so that you are noticed, not your injury.
Just email us at cs@castcoverz.com or call us toll free at 1(800) CASTCOVER (1-800-227-8268) and together we'll make something of your break.
CastCoverz! Goes To The Prom!
"The cast cover worked great. People were expecting to see a bright pink cast on prom night but then were confused and thought I got a gold cast until I showed them it was just a cover. I got many complements on the cast and it didn't ruin my outfit. Some people forgot I had a cast at all. Thank you so much!"
~ Karlenna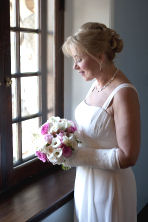 CastCoverz! Helps Keep The Bride Feeling Beautiful!
Jana is wearing a custom Armz! designed from a fabric that would coordinate splendidly with her wedding dress. The fabric was selected simply by the bride sending us a photo of the dress. Jana felt that, "the simplicity of the lace and the light beading were the perfect complement to my dress".